Flexible, Transparent Pricing
The SpyMeSat app includes the ability to preview and purchase the most recent, highest resolution commercial satellite imagery from leading satellite imagery providers. Through an easy and affordable in-app purchase process, users can preview, selection, & purchase archived imagery of any location. With no industry standard minimum purchasing agreements, users have the flexibility of a la carte satellite imagery sales. Image prices start as low as $4.99 and are provided through authorized reseller agreements with various imagery providers. Each provider offers different benefits, different image sizing and resolution capabilities, and archives are updated daily. As authorized resellers, SpyMeSat creates a single-user marketplace that offers individuals the opportunity to leverage high-resolution satellite imagery data for their project.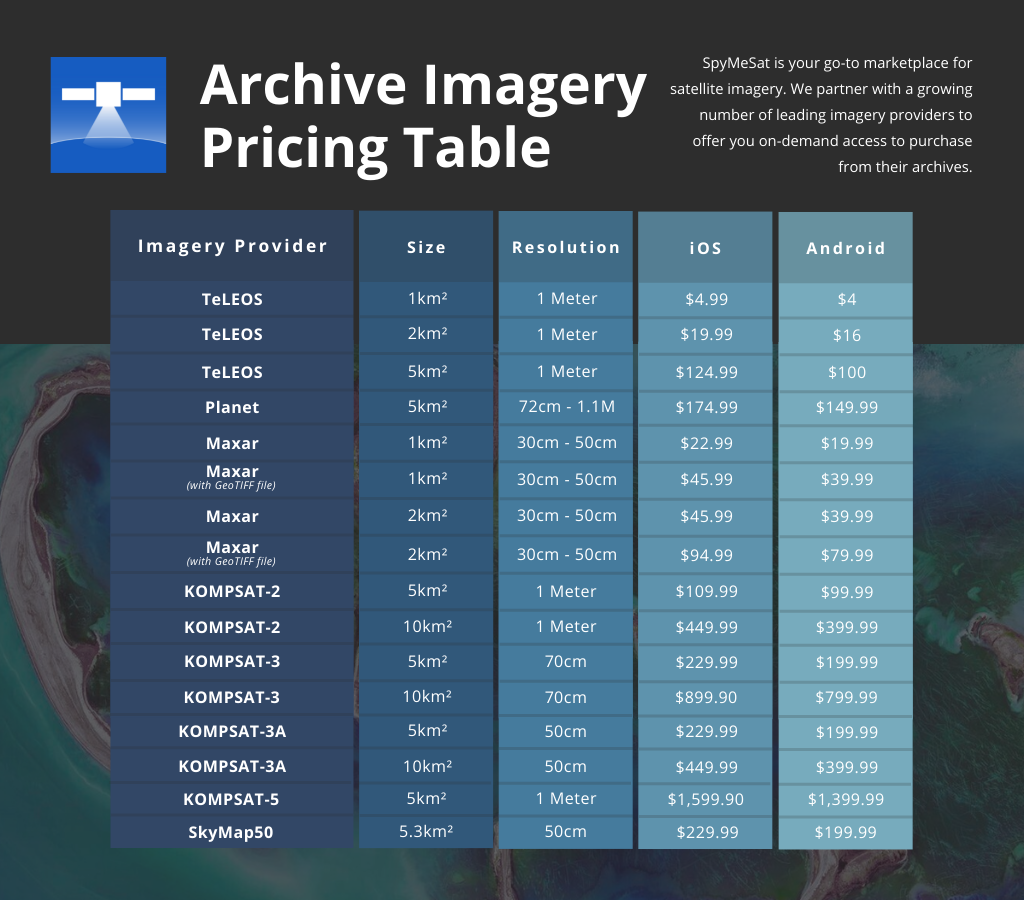 Our Providers

SpyMeSat users have on-demand access to the most recent and highest resolution commercial satellite imagery available. SpyMeSat offers imagery from leading satellite imagery providers including Maxar, Planet, SI Imaging Services, & ST Engineering Geo-Insights.

Need New Imagery?

With SpyMeSat's New Tasking feature, users can commission a growing collection of constellations to observe any location on Earth. SpyMeSat provides regular status updates from the satellite operator, including a notification of a planned imaging time several hours before each attempt.
Custom Solutions – Your Archive, Your Satellites, Your Branding
The SpyMeSat app and server architecture can be deployed as a custom, white-labeled solution for the private tasking of any constellation of satellites and connected to any imagery archive(s) for any program. Customization is more configuration than development, so the timeline for deploying a licensed, SpyMeSat-based app solution for your program is quick, cost-effective, and low risk.
Request pricing by emailing SpyMeSat@orbitlogic.com